Following the government's decision to move the May Bank Holiday from 4 to 8 May 2020, we have been forced to curtail our programme by one day. We will stop dancing Sunday evening, 22.30 hours (or later); campers can stay until early on Monday. We have amended our pricing structure accordingly and are reopening
ticket sales
forthwith.
You can find an updated draft programme here.
If you came here from eiff.org.uk your bookmarks should have been updated with the new address. If you followed a link from another website, that will need to be updated.
May Heydays at Evesham is the relocated and renamed Eastbourne International Folkdance Festival (EIFF). After 44 years at Eastbourne, we needed to move because of the difficulties posed by having three venues at some distance from each other.
The Festival Venue
Our new venue,
The De Montfort School
, Evesham, WR11 1DQ, offers all you need on
one site
:
6 halls of various sizes (see them here)
catering
full camping facilities.
An added bonus is that the school is less than a mile from Evesham town centre and there are two hotels within half a mile of the premises. The Evesham Premier Inn is 3 miles away on the by-pass, and there are other hotels, B&Bs and self-catering options within a few miles of the venue. We have suggested
Where to stay
within a reasonable distance from the festival venue.
The Festival Format
Closely following the long-established Eastbourne format, May Heydays offers an enjoyable bank holiday weekend mix of different folk dance traditions from many parts of the world.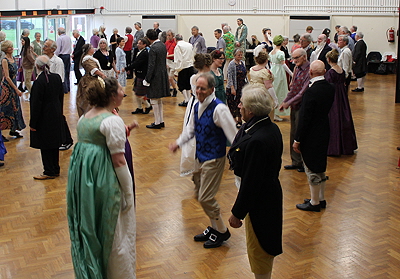 Our extensive English programme of workshops and dances offers modern and historical dance (including Playford and other styles and eras) with a variety of live bands from England and/or the States. In 2019 Eastbourne started offering two English Balls for which dancers were invited (but not obliged) to wear historical costume or formal dress. The success of this means that we will continue to have two Balls at May Heydays, one on Saturday and one on Sunday.
Festival-goers also enjoy a great selection of American contras and squares, again with a variety of live bands from England and/or the States. These workshops and dances will be led by callers from the UK and/or the States.
Our International guests will teach dances from different regions of the world, with a special emphasis on the Balkans. Owing to the range of tunes and styles involved in International dancing, workshops are mainly taught with recorded music; only for the evening dances will there be live musicians.
But May Heydays also offers an eclectic mix of other dance styles, traditional and modern. To give you a few examples, we may throw in French and Northern European couple dances, Jive, Lindy Hop, Cajun or Argentinean Tango.
A further string to the festival's bow is our commitment to providing opportunities for caller training. May Heydays will continue the Eastbourne tradition of offering new callers the opportunity to call at the Callers' Showcase and receive feedback from an experienced caller. Those who show their worth at the Showcase will be invited the following year to call during the Sunday afternoon tea dance. In 2020 the festival will also provide a room for a "Callers' Round" where callers can meet up and exchange notes.
In addition to our dance programme, from 2020 we will offer a selection of guided walks for non-dancing partners. We are also planning singing and music workshops.
Please visit the Performers page or check our Programme for the current year's proposed dance genres, and to find out which bands and callers we have booked.
Tickets
Earlybird weekend
Tickets
for May Heydays are now available. Special rates apply for
Stewards
.
---
Copyright © 2012-2020 May Heydays Folk Festival.
Privacy policy